Invasive Meningococcal Disease in Ireland
Invasive Meningococcal Disease (IMD) is a notifiable disease in Ireland and is of major public health importance. IMD data are collected by HPSC with the assistance of Departments of Public Health, Microbiology Laboratories and the Irish Meningitis & Sepsis Reference Laboratory (IMSRL) in the CUH, Temple Street and disseminated to a wide range of professionals and members of the public.
This disease may present as meningitis, septicaemia (blood poisoning) or both. Meningitis is an inflammation of the meninges, which is the name given to the covering layer of the brain. Pre-pandemic IMD was the most common form of bacterial meningitis in Ireland (in 2019, 52.6% of all cases of bacterial meningitis were caused by IMD).

Since 1999, Neisseria meningitidis serogroup B has been the most common infecting serogroup in Ireland, (except in 2017 when serogroup C disease notifications exceeded serogroup B notifications for the first time).

A meningococcal C conjugate vaccine (protective against serogroup C infections) was introduced in Ireland in October 2000. A meningococcal B vaccine (protective against serogroup B infections) was introduced to the national primary immunisation programme in December 2016. A Meningococcal ACWY vaccine (protective against serogroups A, C W and Y) was introduced for 1st year students in the 2019/2020 academic year.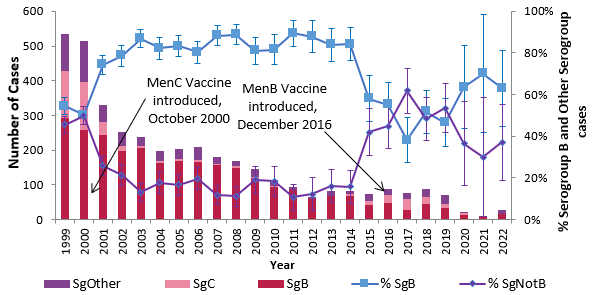 Invasive Meningococcal Disease (IMD), in Ireland, 2022 (as of 20/12/2022)
| | |
| --- | --- |
| 27 | The number of IMD notifications in 2022 |
| 0.6 | The national notification rate per 100,000 population in 2022 |
Last updated: 20 December 2022